The role function of the Dark Lord in Mu Legend
Mu2zen
Date: Aug/20/17 20:57:02
Views: 2058
Mu Legend's Dark Lord uses shields to lead the battle on the battlefield with overwhelming defense. The Dark Lord, who was active in the shadows, made a great contribution to the escape of the control of Ashish by humans and got the name Dark Lord.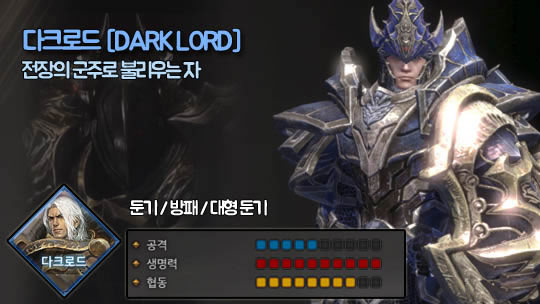 Dark Lord takes the Scepter and Shield to take advantage of recovery and assistive technologies to maximize the party's combat effectiveness. On the other hand, large blunt weapons are optimized to deal damage by abandoning shields and armed with large blunt weapons, and can combine powerful wide area attack and crowd control techniques to defeat enemy forces.
Dark Road, defending at the front, helping party members

Always stand at the front of the party to stabilize the party, while attracting and collecting the enemy, such as the Dark Lord acts as a tanker. Dark Road has no assault-like skill to tackle the enemy. Instead, it is most likely to attack or draw ranged enemies based on high vitality. Therefore, MU Legend is a representative tanker character that emphasizes high vitality, defense, and cooperation among characters, and sees the light in the dungeon where the party play is more focused than single play.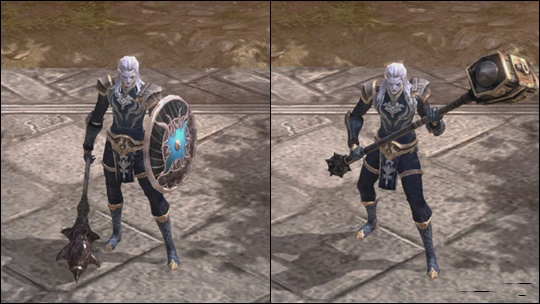 Dark Lord uses one-handed weapons, Scepter and Shield, and two-handed weapons, large blunt weapons. Scepters and shields are literally tank-type equipment that is very useful when dungeons are in progress, and large blunt weapons are used to advance the story or hunt alone. Especially when a large blunt is worn, it is converted to attack power by a certain amount of defense strength. Large blunt weapons are more damaging than Scepters and Shields, so they are mainly used for playing alone, while Scepters and Shields are used as party equipment.
Major skills, reduced movement speed and provocation, and party members vitality recovery

blunt' has 'Call of Destruction', 'Rapid Rupture', 'Shield Price', and if shielding is successful through specialization,Gives additional damage to attack power . Specialized 'large blunt' specialization,you receive 10% of attack power options , including 'Whirlwind,' 'Divine Strike,' and 'Robust Forward' skills.
First, the blunt weapon technology called 'Destruction Call' is a technique to beat the Scepter, and the attack range and range are slightly shorter. However, in the third hit, the wave of anger is generated, and the range damage becomes effective, and it is effective for hunting. 'Rapid Rupture' shows the enemy's striking motion, which has a certain probability to cause more damage to the opponent. On the other hand, 'Shield Pricing' is a skill that stuns for 1.5 secondswhiledamaging nearby enemies in the third strike.
The large blunt 'Whirlwind Blow ' fires forward and increases the number and damage of the whirlwind during continuous attacks. 'Divine Strike' Inflicts a Holy Strike in the forward direction, inflicting a range of damage equal to 125% of the attack power and reducing the movement speed and attack speed of the target. Finally'Robust Forward' draws enemies with range damage to the enemy in front. Continuous attack range and damage increases as the battle continues to grow stronger.
The area of ​​the flame that strikes the blunt is temporarily fired, causing continuous damage. And 'Rotating frustration', which rotates quickly and attacks all nearby objects,also has a decrease in movement speed and an increase in opposition. 'Hand of Guardian' restores silence and attack to enemies and vitality to friendly forces. 'Fire Burst' is a powerful wide area technique that adds additional range damage after 1.5 seconds. 'Shout of Lightning' also has a function of pushing and attacking all targets around it. The 'Flame of Fortitude' deals 20 damage for 20 seconds, causing a continuous fire damage, making it easier to deal with it without having to use any skills. 'Light of divinity' restores life to itself and its neighboring ally, and increases the speed of life recovery.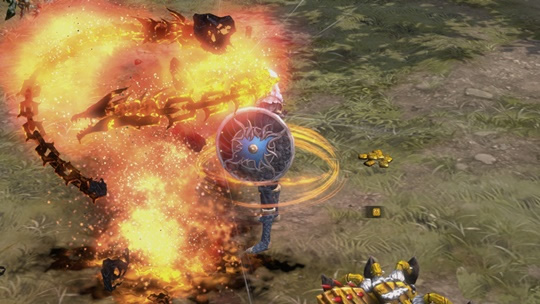 The only rush of the ' Dark Rush' Dark Road. Scarred damage to the target for 2.5 seconds to force yourself to look at the effect of the party is considered an essential effect. 'Monarch's Hand' has a provocative effect, attracting the target with damage from the front hooks. There are two professional skills that will be essential for party play. In addition, 'Ice Claw' freezing enemies nearby, 'Weapon throwing' also causes a wide range of damage and reduces the speed of movement.
Finally, the flower of Dark Road, 'Ring of Destruction' is a charging skill. The longer the holding time, the greater the damage and the greater the range. Damaged enemies can effectively deal with enemies by reducing their movement speed for 4 seconds.
You can choose from three specialties: 'Tactics', 'Immunity', 'Death', 'Encouragement', 'Destruction' and 'Advancement' . If youchoose 'Tactics' first,you have a mocking passivethat instantly attracts all nearby enemies and thenincreases the absorption of insanity and attack by exploding energy.
If you select 'Immune' , you can use the 'Immune to Immune' skill. It is an appropriate skill for a survival period because it is attacked for 4 seconds and does not get any damage. In addition, there is a Transcendental Shield Passive that increases the chance of blocking a shield by 10% and immediately recovers 1% of its maximum life on success.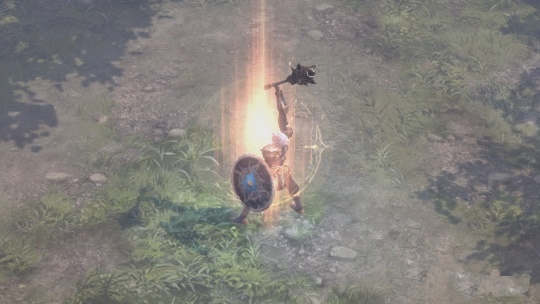 In addition,if you select 'Death' expertise, you can usethe magic spell 'soul of followers' to create a magic arc where souls ascend to that position. On and off can be controlled by the user at any time, and can also bring a passionate passive passive that reduces the target's armor for 5 seconds when casting a primary skill.
There is also an all-encompassing technique for destroying the camp. Wearing the "Ruin" expertise that widespread and enchanting a large number of enemies with its extensive and powerful striking ability can bring you "Rugard's Rage" skills. Summons a Lugard stone statue in a specific range, and it becomes stronger as the holding time is longer because it is a triggering skill after a charge. It also has a 10% chance of attacking for 5 seconds, which is recommended for an aggressive dark road.
MU Legend features and system renewal
MU Legend has released its first new character, EmphiSizer, on its update today (August 10). In addition, we have made major patches, such as renewing new fundamental dungeons and systems.
MU Legend Technical Support Bulletin
This is a guide for when leaks and stoppages occur during play.Intermittent rake phenomenon and stop phenomenon are caused by various causes, and most of them can be solved by the following methods.
Fast Delivery
Our delivery team work 24/7 to make the delivery so we can usually complete your order in a very fast time.
Cheap Price
We do price check everyday in the whole market and we promise to make the prices as cheap as we can.
7x24 Support
Mu2zen.com has a group of professional customer service team who work 24/7.
Refund
In the process of purchase, if we do not fulfill the customer's order on time, a refund will be granted. The refund will be issued immediately!