MU Legend Stress Test at September 23rd
Mu2zen
Date: Sep/22/17 21:59:16
Views: 702
Mu legend've arranged a stress test for September 23rd. Before it begins, Mu legend would like to clarify some important topics and enlighten you as to what's involved in this process.
However, the most important thing to remind you about is the fact that the client you have downloaded (or about to) is an early download of the OBT client itself!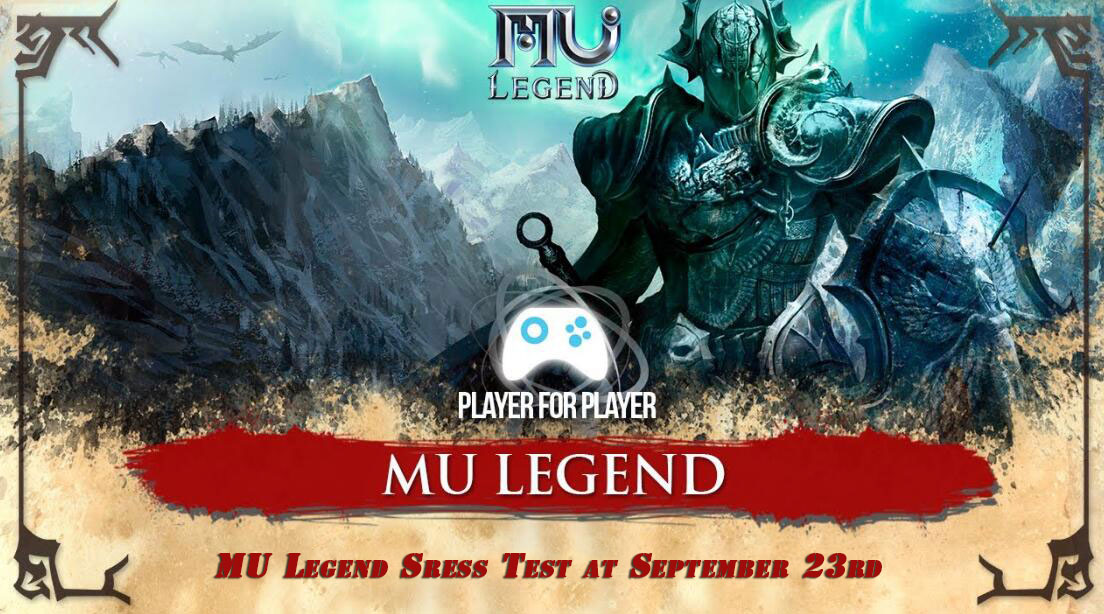 What Things to Need do before MU Legend Stress Test?

- A Webzen account (you can create a new account or use any of your accounts from other Webzen games).

- Download mu legend and install the client.

Once you have installed the client, you will need to execute the launcher. After that, you will need to log in using your Webzen username and password.

After successfully logging in, you then have to click "Play" to verify your files and download a patch, if necessary.

Finally, GameGuard will run and the game will start.


what is a stress test?

A stress test is a QA process that attempts to put the server structure through intense stress. In doing this, mu legend aim to gain some valuable data and gather logs from every user who participates.

In order to get the relevant data on MU Legend system, mu legend would like to saturate MU Legend server capacity for the entire 8-hour duration of the test.

One of the features mu legend want to test is MU Legend new GameGuard System. As mentioned, we'll be using this stress test to gather logs which will help to avoid issues during the release of the game.
We also want the maximum number of players to create parties for Rifts, so on this occasion, the limitation on Rift entries will be removed!

We think it might be possible to achieve this because EVERY user in the whole world will be able to participate in the stress test.

During this test, the entire Webzen team will also be in the game to follow the progress.

Remember: Don't worry about any latency issues, because as mu legend said, this is a stress test -
you won't experience the same issues when mu legend release the game in November.


What is MU Legend goal?

mu legend goal is to saturate the server of a specific zone in order to test its capacity and limits. The game will be available to play for 8 hours (4 p.m. until 12 a.m., UTC), and we have restricted the use of the map to Enova and the Rift only.

Finally, the game will be available only in English for the duration of the test.


What will I gain for participating in this stress test?

In addition to the fact that the stress-test client is an actual early download of the OBT client itself, you will be helping MU Legend development teams to find the best way to optimize the game for each region. Plus, we're offering 500 Bound Redzen to every user who logs in to the server!
Mu Legend OBT Will be release November 7th 2017
Hi Mu legend Fans,Webzen published Mu Legend OBT Will be release November 7th 2017, and All available users have been invited to take part in a stress test, under the hashtag "#Breakourserver", intended for September 23rd.
MU Legend Tips For The War Mage Labyrinth
Recommended skill tree : propulsion explosion, glacier prison, flame curtain, indiscriminate frenzy, hallucination pollution.Skill Combo: A. Flame tabernacle> indiscriminate frenzy> hallucinogenic pollution> propulsion explosion> dill hara flap curtain + glacier prison>
Fast Delivery
Our delivery team work 24/7 to make the delivery so we can usually complete your order in a very fast time.
Cheap Price
We do price check everyday in the whole market and we promise to make the prices as cheap as we can.
7x24 Support
Mu2zen.com has a group of professional customer service team who work 24/7.
Refund
In the process of purchase, if we do not fulfill the customer's order on time, a refund will be granted. The refund will be issued immediately!